Marketing Analytics Services:
We provide executive level consulting services and ongoing campaign insight and execution to agencies and brands.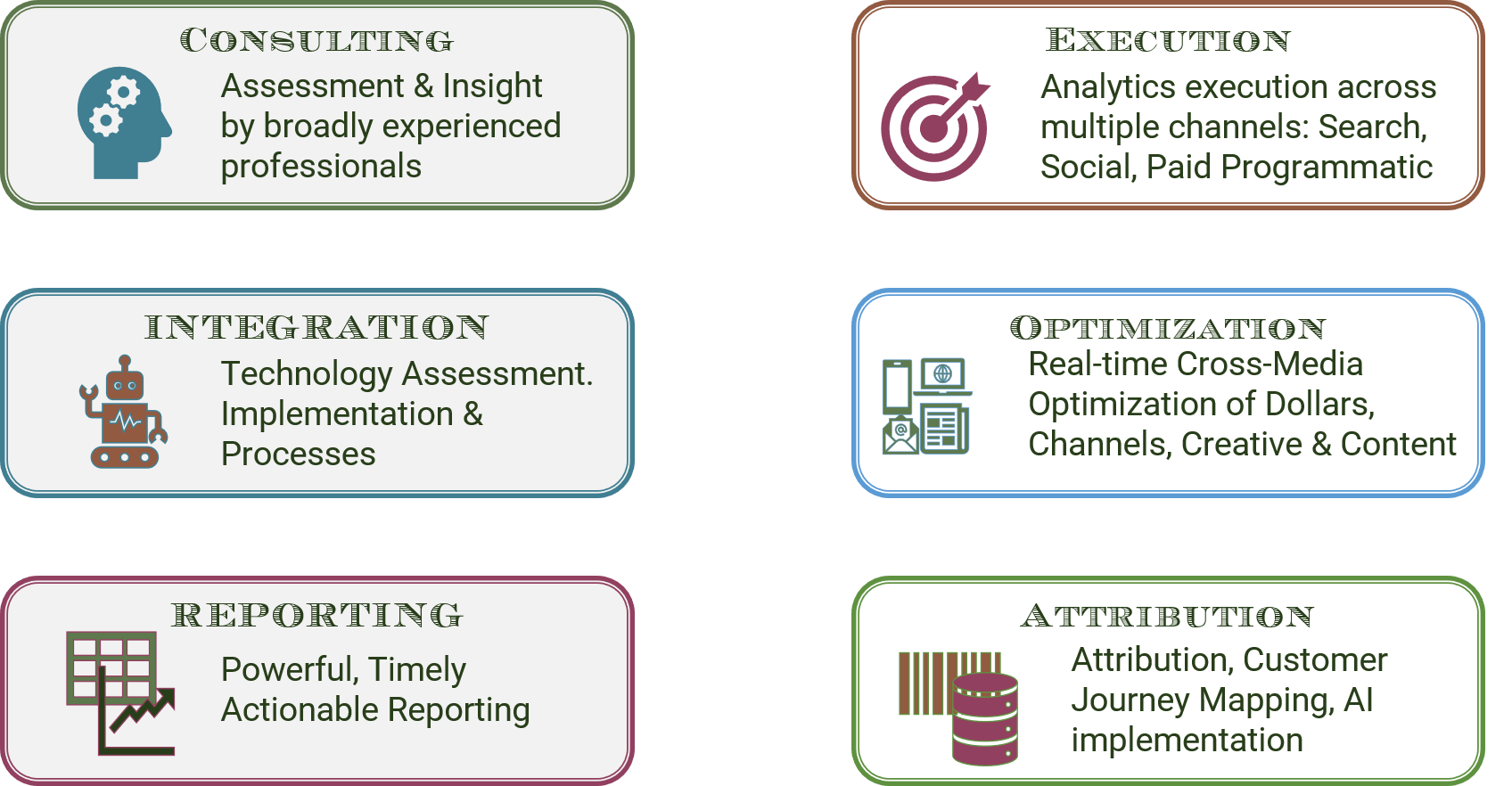 There is no magic bullet to solve the analytics conundrum; no one piece of software, no single process for addressing multiple clients. We've worked with many popular dashboards and analytics packages. For most advertisers, there are no off the shelf, ready to go technology solution to your particular optimization, attribution, ROI modeling, stitching supplemental data, timely and actionable reporting challenges.  ROI Factory recognizes this reality and constructs custom stacks and processes designed to address specific agency and marketer needs.
We rely on our own custom tools for critical functions but recognize that an underutilized existing analytics stack exists  that needs rationalization. 
We're experts:  ROI Factory is Adobe, Google Analytics and Google 360 Certified.
Our work falls broadly under two  buckets:
Consulting & Strategy:
Constructing an effective analytics strategy and its parallel processes ends up being a function of who your internal and external clients are and the nature of their specific needs.  We are skeptical of the claims of "one size fits all" enterprise style technology solutions. Virtually every measured marketing activity is most effective when some layer of customization is added.  Starting with a base of Google analytics, we assess your current marketing stack, look at your client demands and assess the viability of current staff and processes.  We work fast. We get to the root of the problems. We make recommendations that will improve the ROI of your campaigns within the budgets you have available.
Analytics Audits:   Technology assessment, implementation and processes

Company and Agency Strategy & Insight by broadly experienced professionals

Integration Services: Selecting, contracting, technical implementation required for integration of packaged services as well as creation and integration of custom data sets

Organizational structure and training: Ensuring that analytics activities are rapid enough to be actionable and that they provide a positive return on the expense. Ensure that analytics software adoption is maximized within your organization
Executional Services:
Outsourcing analytics to experts makes a great deal of sense for organizations that are not primarily in the analytics business.  Ad Agencies where the creative product is most important or product or service companies outside of tech startups all need help getting analytics right. Working with ROI Factory minimizes the need to oversee a new technology infrastructure. Variable costs can be managed. The product is more timely and hence much more actionable.  We are very confident in most situations that the combination of better return on marketing dollars and better managed costs, handled by experts will more than pay for itself.
Full Agency Execution:  Analytics insight and execution across multiple channels: Search, Email, Social, Paid, Programmatic, Video views

Reporting:  Powerful, timely actionable reporting. Platform certified analysts, Custom ROI Factory dashboard view

Attribution Analysis: Including the introduction of multi-touch attribution modeling and the use of predictive data models to add attribution for offline media such as television or events.

Cross-media Spending Optimization: Implementation of on the fly budgetary adjustment. Elimination of silo based budgeting practices that limit ROI
Analytics offers the promise of significant improvements to Marketing ROI.  It can also be the source of considerable cost and confusion. We assess the processes that your organization is using to deliver its analytics product.  Is the product used effectively? Is it delivered in a timely fashion such that it can be actionable?  While any organization is usually able to perform some level of base analytics, how much is being left on the table due to the wrong tools, organization and underutilized external data resources
Led by industry pioneers:
Michael McMahon and Bruce Carlisle are genuine pioneers in the digital marketing world. Each has founded and been CEO of multiple marketing services companies. To set up a 15 minute meeting to see if we can help your organization improve your targeting, reporting and return on spending, please schedule a time with Michael or Bruce here.